Hastings Sr High School


Class Of 1980
In Memory
Blake Prosser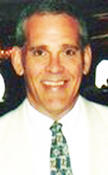 Blakely Edwin "Blake" Prosser, passed away on Friday, June 16, 2017.
He is the beloved husband of 32 years to Becky Prosser. They have two children together, Jake and Emily. Blake is the son of Dale (deceased) Prosser, and Betty Prosser. He was one of four children including Barb, Juli and Maria. He is a nephew of Marie and Gerald Miller (deceased). Blake is cousin to Greg Miller and Michele Peltier. He is a loving uncle of many nieces and nephews.
Blake was a man who enjoyed spending time with family. He was an avid reader and enjoyed being outdoors. He loved going on family camping trips, hiking, fishing, canoeing, and cooking on the campfire. He loved listening to rock and roll music and going to concerts. He was an avid sports fan as well.
Blake was involved in Boy Scouts as a troop leader and committee member. He was a member of St. Michaels Parish. He was a former small business owner of a photo-finishing company and former employee of Joyce Meyer Ministries.
He was a friend to many and will be deeply missed. He will forever be remembered in our hearts.
Services: Visitation Friday, June 23, 4-8 p.m. at BOPP CHAPEL, 10610 Manchester Rd., Kirkwood, MO. Memorial Mass Saturday, June 24, 10:00 a.m. at St. Michael the Archangel Church, 7622 Sutherland in Shrewsbury. Interment to follow in Resurrection Cemetery. Donations to Boy Scouts of America or Siteman Cancer Center would be appreciated.